Free Webinar ---"Introduction to New Features of LightTrans VirtualLab™ 5.8"
Author: InfoCrops Time: 2013-8-8 09:32:50
Webinar: "Introduction to New Features of LightTrans VirtualLab™ 5 .8"
Wednesday, 5th of September, 2013, 10.00am – 11. 15am (CE ST) and 05.00pm – 06. 15pm (CE S T)

Speaker: Hartwig Crailsheim, LightTrans VirtualLab UG

Abstract:
The release of LightTrans Virtual Lab™ 5.8 is a big step forward to even more realistic simulations and improved optical system setups. VirtualLab™ 5.8 provides a great new flexibility regarding positioning, tilting and tolerancing of all optical elements. The rigorous Fourier Modal Method's grating analysis can be used within optical systems with general illumination waves.
The following new features are presented in this webinar:
• Flexible positioning of optical components (general shifts and tilts)
• Extended tolerance analysis
• Rigorous grating analysis within general optical systems
• New fabrication data export by Surface Tesselation Language (STL)
• Enhancements of programmable component
• Improved analysis of pulse functions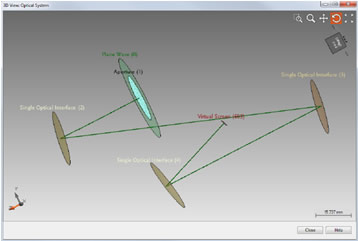 3D view of eccentric - pupil Paul Gregorian telescope system
The detailed program can be found in the attachment. The webinar is going to be held twice on Thursday, September 5, 2013 at 10:00 - 11:15 AM (CEST) and at 5:00 - 6:15 PM (CET). CEST is the Central European Summer Time, and is 2 hours ahead of Coordinated Universal Time (UTC). Please use the links below to register for the webinar.
• Register for Webinar 1: September 5, 2013, 10 - 11.15 am (CEST )
• Register for Webinar 2: September 5, 2013, 5 - 6.15 pm (CEST )
Note, the page allows you to show the time in your local time zone. After a successful registration you will receive an e-mail with a link that allows you to join the webinar. We are looking forward to you joining us at the webinar.