Webinar:"Homogenization and Shaping of LED Light by Micro Optical Components"
Author: InfoCrops Time: 2014-12-4 09:32:50
Tuesday, 9th of December, 2014, 10 am – 11.15 am (CET)
and 5 pm – 6.15 pm (CET)
Speaker: Dr. Hagen Schweitzer, LightTrans VirtualLab UG
Abstract
The homogenization and shaping of LED light is of increasing interest. For the
homogenization of light different micro optical components, as for example, micro lens arrays,
diffractive diffusers and arrays of micro prisms, micro mirrors as well as gratings can be used.
This webinar will give an overview of the simulation of LED light including diffraction,
interference, polarization, partial coherence and aberrations. In addition the webinar will give
an introduction into design and simulation of micro optical components and the importance
of diffraction, interference and partial coherence for the homogenization and shaping process.
Webinar Topics:
- Modeling and simulation of LED Light including partial coherence, diffraction,
interference, polarization and aberrations.
- Homogenization and shaping of monochromatic and white LED Light.
- Design and simulation of computer generated holograms, phase plates, diffractive
diffusers, micro lens arrays, grating cells arrays, prism cells arrays and mirror cells
arrays.
- Generation of arbitrary 2D light patterns.
- Export of fabrication data in GDSII, CIF, ASCII and bitmap file formats.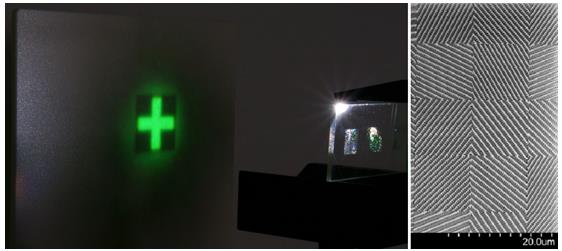 The image on the left side shows the homogenization and shaping of green LED light into a cross pattern. The shaping is done by a grating cells array, as for example as, shown on the right.